His picture hung in my grandparents house, along with all of the other pictures of the kids.
I never met him, neither did any of the grandchildren.
But that picture, always there. In every family portrait, you can see it in the background.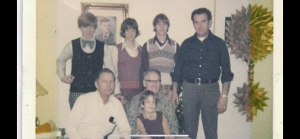 It wasn't until years later that my brother pointed it out to me.
Every picture, there he is.
One July morning, back in 1950, my uncle, Kenneth G. Eller, along with 30 Guardsmen , were wrapping up a two week training exercise in Myrtle Beach.  All were in high school.  And they were coming back home to Nashville to finish out the summer before school began.
They were ready to take on life.
They never made it home.
From the  NASHVILLE BANNER, July 24, 1950:
"The 30 young men, many still in their teens, died when the Air Force reserve C-46 transport plane in which they were to have been brought home after two weeks of summer maneuvers, plunged to earth, exploded and burned in a dense pine thicket 10 miles west of Myrtle Beach, seven minutes after take-off."
(Headline as it appeared in the Nashville Banner that day.)
He was 18.
He was survived by his mom and dad, 2 brothers and one sister.  That sister was my mom.
She never talked much about him as I was growing up.
I came to find out later, he was her best friend.  They were closest in age.  Mom was 12 when he died.  The other two brothers were already in their 20's and in the military too.
I cannot begin to imagine.
I remember mom saying, when the body came back, my grandmother asked the military if the casket could be placed in the living room, the night before the burial.
"I want him to spend one more night at home, before I say goodbye."  The casket, along with 2 soldiers who stood at attention all night long, was at the house, per my grandmother's wishes.
That next day, from all reports, thousands lined the streets of what is now Hillsboro Village to pay respects to him.
Mom said Nana and Papa would not talk about Kenneth, nor what happened, for years.
My mom wouldn't either.  Except towards the end of her life.
She told me she always wanted to go to Myrtle Beach but couldn't bring herself to do it.  She never mentioned going there, until the end.
In July of 2011, just two weeks after she passed, I took my daughter to Myrtle Beach.
In the backseat, my mom's ashes.  We spread her ashes off the pier, into the Atlantic Ocean on an absolutely beautiful night.
Perhaps the same kind of night my uncle enjoyed before he would leave this place.
He is buried in Woodlawn cemetery, right next to my mom.  And next to them,  my grandparents.
His marker is worn and weary, it has been there 71 years.
Now, I will not pretend that his dying affected me in any way.  I never met him, obviously, but as I have gotten older, I have a deep appreciation for him and others who have sacrificed so much.
There is a plaque in War Memorial Plaza in downtown Nashville.
It reads, "In Honored Memory of The Tennessee Air National Guardsmen Who Lost Their Lives July 23, 1950, In The Service Of Their Country."
7 names down, it says, 'Kenneth G. Eller.'
I read somewhere that we die twice.
Once, when we physically die. Second, when our stories are stopped being told.
I pray for our country, that those who have laid down their lives, their stories, never get stopped being told.
@BIGJOEONTHEGOTN
Sharing is Caring:
Twitter Facebook Google Reddit